/maj 2014.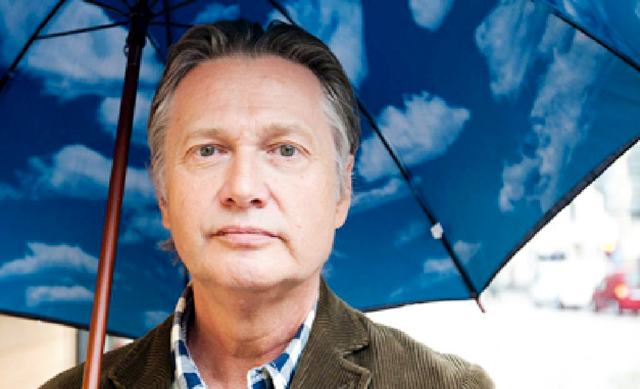 Håkan Lahger rođen je 1950. godine u Sundsvalu, na severu Švedske.
Studirao je u Upsali i Stokholmu, master studije filozofije završio je 1974. godine.
Početkom sedamdesetih bio je aktivan u okviru pokreta Musicmovement, progresivne muzičke scene koja je bila veoma živa i dominantna u švedskoj muzici tog doba. Kasnije je o tom periodu napisao knjigu Proggen – the rise and fall of the Musicmovement. Jedan je od vodećih muzičkih novinara u Švedskoj.
1980. godine osnovao je magazin Šlager, koji je vremenom postao vodeći muzički časopis u Švedskoj. Do polovine devedesetih radio je u njemu kao urednik, a nakon toga je napisao stotine članaka o muzici, filmu, pozorištu i drugim oblastima kulture.
Od polovine devedesetih, kad je počeo da se aktivno bavi pisanjem, napisao je osam knjiga, među kojima i knjigu o Bobu Dilanu. "Dilan, ljubavna priča" nije biografija u klasičnom smislu te reči. Naime, Lager se u pisanju ove knjige susreo s mnogim Dilanovim savremenicima, čija mišljenja nisu uvek strogo pozitivna. Od ovih razgovora, kao i razgovora sa sagovornicima iz Švedske, Lager plete priču koja predstavlja omaž jednom od najutemeljenijih muzičara današnjice.
Dve decenije radio je kao urednik na televiziji, na više različitih televizijskih emisija. Trenutno uređuje poznatu emisiju Švedske televizije Skavlan-show, koja se prikazuje u celoj Skandinaviji.
Bibliografija:
Proggen – musikrörelsens uppgång och fall (Atlas 1997) Prog – uspon i pad Musicmovementa
Jag ljuger inte om rock'n'roll (Page One 1999) Ne lažem o rokenrolu
Blåsningen – historien om kommersiell tv i Sverige (Ordfront 2003) Žaoka – istorija komercijalne televizije u Švedskoj
Pensionär? Aldrig i livet! (Langenskölds 2005) U penziju? Ne, dok sam živ!
De legendariska åren – Metronome records (Premium publishing 2007) Legendarne godine – Metronome records
Den vassa eggen – Ulf Lundells kreativa kaos (Norstedts 2008) Na ivici oštrice – kreativni haos Ulfa Lundela
Bob Dylan – En kärlekshistoria (Norstedts 2011) Bob Dilan – ljubavna priča
Helikopterpiloten – berättelsen om ett rån (Norstedts 2013) Pilot helikoptera – priča o pljački